654c631972e3e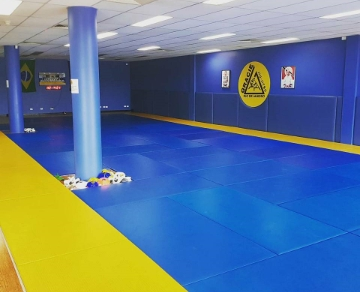 Ever dreamed of mastering the techniques that can turn you into a ground-fighting genius? Welcome to Jiu Jitsu at Bankstown Martial Arts. This is where the age-old wisdom of grappling meets the modern warrior spirit. Prepare to unleash your inner combatant—without throwing a single punch!
Physical Fitness:

Jiu-Jitsu offers a full-body workout that improves strength, flexibility, and cardiovascular fitness.

Mental Sharpness:

The art of Jiu-Jitsu challenges your mind, enhancing problem-solving skills and mental resilience.

Stress Relief:

Jiu-Jitsu provides an outlet for stress and a healthy way to manage daily pressures.
The Gentle Art of Fierce Combat
Jiu-Jitsu, often referred to as the "gentle art," is a martial art that focuses on leverage and technique rather than sheer strength. It's about cultivating the calm focus of a samurai. At Bankstown Martial Arts, our Jiu-Jitsu program offers you the opportunity to learn and master this ancient art while gaining physical fitness, mental sharpness, and self-defense skills. 
Don't miss out on the opportunity to master the art of Jiu-Jitsu. Contact us today to learn more about our class schedules, trial sessions, and membership options. Start your journey to becoming a skilled, confident, and empowered martial artist through Jiu-Jitsu at Bankstown Martial Arts.
654c63197c1ea
Three months in and I've learned more than I ever thought possible. The Bankstown team really knows how to break down complex moves into something anyone can understand.
I came for the workout but stayed for the technique and camaraderie. Truly a life-changing experience!
Never thought I'd be into grappling, but the team here made me fall in love with it. The instruction is top-notch and every class is a new adventure!
654c63197d9b4
Frequently Asked Questions